FCI & EGNO Chimie merged to become FCI, a single company
Flexible and versatile equipment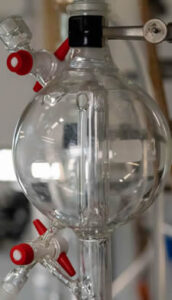 FCI has a versatile industrial facility designed for the chemical development and industrial manufacture of sophisticated products ranging from kilograms to several dozen tonnes of products per year.
Equipped with reactors from 50 to 4000 litres in stainless steel, enamel, Uranus or Hastelloy, our workshops represent a total capacity of 15m3 over a built area of 1000 m2.
Our distillation workshop has distillation capacities ranging from 30 to 300 litres, with a separation capacity of 10-15 theoretical plates.
Esterifications 
Our site has particular expertise in the production of aromatic esters, from the most common to the most complex, with reactors from 100 to 1000 litres dedicated to this family of products.
Our site has the administrative authorisations required to handle:
Liquid ammonia, with permanent storage of 15-20m³ and a dedicated incineration flare; our site is one of the few in France still able to use this reagent.
Water-reactive metals such as lithium, sodium and magnesium
Solvents and flammable products
Reducing agents, such as Sodium Borohydride or Lithium and Aluminium Hydride
H2S and other products giving access to families of sulphur products.