Multipurpose and flexible equipment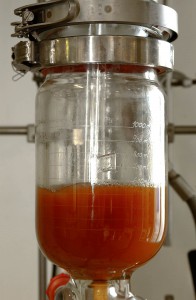 EGNO is equipped with reactors and distillators adapted to development and production upscaling from Kilos to Tons.
In the lab, we use flasks ranging from 0.5 litres to 20 litres, while at industrial scale, we use versatile reactors from 50 litres to 2,000 litres in Glass Lined or Stainless Steel.
Moreover, we have a workshop dedicated to Fine Distillations with boilers from 30 to 300 litres with columns of 10-15 plates.
Esterifications 
Complex esters is one original know-how of EGNO which has developed a large range of catalogue products, using a set of reactors dedicated to this products family
Versatile and flexible equipment
At EGNO, we are in position to handle very sensitive reagents such as: